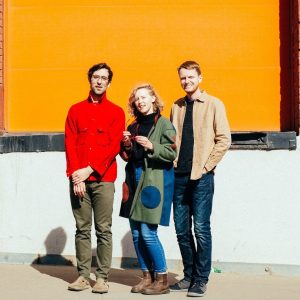 (Facebook)
Cancel ALL your plans!
No, really. All of them. Now.
Minneapolis indie rockers Bad Bad Hats are tag-teaming a show with Moorhead's own Free Truman tonight at The Aquarium, and if you've never seen this crew in action, you best be there. Being the Bad Bad Hats fans we are here at KORD Radio, I figured it would be nice to catch up with them real quick ahead of their show to chat about their new album, how tour's going so far, and more. Here's my short but sweet interview with Kerry Alexander from the band:
Chris: Welcome to Fargo! You're about a month into your album release tour (amazing) – what has tour been like so far?
Kerry: Tour has been really great, thank you! It's a little scary playing headlining shows sometimes, but we've been really pleased with the turnouts. We've enjoyed playing songs from the new album and performing in new cities.
–
Chris: Quick sidenote – did you all have a good Thanksgiving?
Kerry: Yes! It's one of my favorite holidays. Love the food. Chris and I were in Florida visiting my family, so can't complain about that.
Chris: We're really digging your new record Lightning Round here at KORD. What was the process like recording the album?
Kerry: There were a lot of new experiences in that process. We were playing with Connor, our drummer, for the first time. We had a lot more time to record, which gave us more room to try different things. And we did a lot more playing together, which was really nice. There was really good energy in doing it that way.
Chris: Just heard the news that you'll be out on the road again, this time with The Beths! How did that come about? How excited are you?
Kerry: We are very excited. I kind of think we have Twitter to thank. I've been a Beths fan for a year or so. And I played their new album for the band one day on tour and everyone loved it. And Chris was like, you should tweet at them at tell them you like the album. And I was like, oh I don't know, should I? But I did, and they responded, and then we got to talking about helping them get a Minneapolis show and then somehow that turned into a tour. Kind of beautiful really. We can't wait!
Chris: What's the best part about playing shows here in the upper midwest?
Kerry: We like playing close to home. We like going out for a weekend and playing new places. Smaller towns that maybe other people wouldn't think to play. But those are often some of the most fun shows. None of us grew up in the Midwest, but we love representing Minnesota when we travel. That is the birthplace of Bad Bad Hats after all. 
Chris: I had the lovely chance to catch you all in First Avenue's Mainroom back in 2015. But for those who may be seeing you for the first time, what can audiences expect from a Bad Bad Hats show these days?
Kerry: Thank you for being there! So, we like to think our shows are pretty fun. Upbeat, joyful. We want people to walk away smiling. Sometimes we describe our music as indie slapstick. Haha!
–
If you want to walk away smiling as well, head on out to The Aquarium tonight in downtown Fargo. Keep in mind it 
is 
a 21+ show, so be sure to bring your I.D. Doors at 8pm, show at 9pm. Tix are $10 and can be found
RIGHT HERE
.
And if you're not acquainted with Bad Bad Hats, I suggest giving them a listen! "Write it on Your Heart" is a favorite from their brand new release, and "Super America" was the song that first attracted me to the band several years back.
Do your homework. Eat your veggies. Be kind to one another.
Stay Spicy,
Chris Cartwright
Station Manager/On-Air Personality